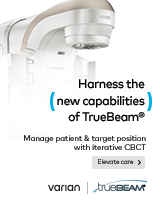 IOMP Medical Physics World, Vol. 35, No. 1, June 2019 https://www.iomp.org/wp-content/uploads/2019/06/MPW-2019-01.pdf Editorial President's Report IOMP Strategic Plan International Medical Physics Week Non-ionizing medical radiation protection and safety From the desk of the IOMP Secretary General The IOMP Project "History of Medical Physics" Treasurer's Report IDMP 2019 Message Report of Science...
XXIV Brazilian Congress of Medical Physics 2019 21-24 August 2019 Santos, Brazil www.ingles.cbfm.net.br The XXVI Brazilian Congress of Medical Physics will take place in Santos, in August 2019. There will be special activities to review the 50 years of ABFM's history by the participants themselves, so that the new generation...
It is my pleasure to announce to you the theme of this year to mark the celebrations of the International Day of Medical Physics (IDMP 2019): It is a Medical Physics World! https://www.iomp.org/idmp
IAEA official message for IDMP 2019. https://www.iomp.org/idmp
To increase and make visible activities of IDMP in AFOMP region a dropdown menu has been created recently on AFOMP website for IDMP2019, where all activities from AFOMP NMOs will be added. http://afomp.org/idmp-day-2019
IOMP has decided to reopen the call for Nominations for IUPAP Young Scientist Award in Medical Physics 2019. The Award will include a cash prize of 1500 USD, an IUPAP medal and the IOMP certificate. In addition, a short Biography of the Awardee will be published in Medical Physics World....
Gothenburg, Sweden 20-22 April 2020 Welcome to Gothenburg! Second Announcement OXMI 2020 – Second announcement
A new subpage has been created recently on EFOMP website for IDMP2019, where all European activities from EFOMP NMOs will be added. Europe Celebrates IDMP 2019