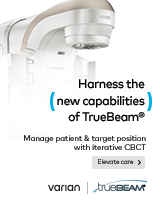 The IAEA held a technical meeting 4-6 March 2019 on Cumulative radiation exposure of patients from recurrent radiological imaging procedures. The meeting discussed results available to date and deliberated on interpretation and recommended actions. It was observed that the number of patients with cumulative effective dose (CED) ≥100 mSv is much...
The first webinar in the series shall be held on 16th April 2019 on CT diagnostic reference levels- Experience of the United States CT Diagnostic Reference Levels – experience of the United States with Dr. Kalpana Kanal PARTICIPATION IS FREE Register for this webinar
Physica Medica – European Journal of Medical Physics (EJMP), official organ of EFOMP, AIFM, SFPM, IAPM, CAMP, HAMP, has become official publication of the International Organization for Medical Physics (IOMP). The Memorandum of Understanding among the Organization, the Federation and the Society has been just signed by IOMP, EFOMP and...
John Mallard award application deadline extended with 2 weeks. New deadline is April 22, 2019.
The joint Workshop, which is 6th in series of similar workshops was held at Hotel Sheraton San Diego and Marina on 20-21 Feb 2019. It was held in conjunction with midyear meeting of the Health Physics Society. Dr. Rehani was invited to give keynote lecture on "Radiation Safety Culture: What,...
For more info on the Brazilian Congress of Medical Physics, click here.
New Competition: Towards a Strong Radiation Safety Culture in Medicine Radiation medical professionals and students can submit proposals to be included in an IAEA training program demonstrating a strong radiation safety culture in healthcare. The deadline for submissions is 30 April, and the top three participants will receive a travel...
First Announcement Gothenburg, Sweden 20-22 April 2020 Welcome to Gothenburg! The planning of Optimisation in X-ray and Molecular Imaging 2020 is in progress. The conference will cover a wide area of research related to optimisation of medical imaging and is intended for a broad audience of medical physicists, radiologists, nuclear...
23-26 July 2020 There will be AOCR meets IOMP session. IOMP members are encouraged to take part in AOCR http://www.aocr2020.com/ Save the dates and mark your calendar
Since 1968, Royal Academy of Science International Trust (RASIT) has been working on Empowering Women in Science through Education, Employment and Recognition. RASIT's work focused on sustainable development programs in education,science, economy, environment and gender equality as well as the support of the marginalized and most vulnerable. Through its scholarship...