Introduction
We have been faced with an unprecedented challenge in combating the COVID-19/SARS-CoV2 outbreak that is threatening the fabric of our civilization, causing catastrophic human losses and a tremendous economic burden on the United States and nearly every country around the world.
During this difficult time, there has been an urgent need for biomedical engineers, clinicians, and healthcare industry leaders to work together to develop novel diagnostics and treatments to fight the pandemic including the development of portable, rapidly deployable, and affordable diagnostic testing kits, personal protective equipment, mechanical ventilators, vaccines and data analysis and modeling tools.
To address the challenges of bringing these inventions into clinical practice quickly, the IEEE EMBS Grand Challenges Forum on COVID19 will be held on November 12-15, 2020. The forum aims to highlight and provide perspective on the challenges and opportunities in COVID19 screening, tracing, and treatment.  We think that your work would highlight the pandemic and its implications and will be extremely interesting to our audience.
The forum will have the following four symposiums:
Challenges in COVID 19
Challenges in COVID 19 Screening
Challenges in COVID 19 Tracing
Challenges in COVID 19 Treatment
IEEE Engineering in Biology and Medicine Society (IEEE EMBS) is the largest international organization that brings together engineers, physicians and scientists to address global healthcare challenges. We believe this forum will help us build a platform that strengthens our collective capability to exchange ideas as well as share, access, and manage data, models and latest reports on COVID-19/SARS-CoV2 research. It will also accelerate the rapid scientific innovation and reproducible research needed to find solutions in the global battle to contain the COVID-19 pandemic.
Location
Due to the long-term impact of the COVID-19 pandemic, the organizing committee has decided to offer the workshop in a virtual format only to ensure a safe environment and to make participation possible for more people. We hope you would join us. Please advise at your earliest convenience, we are available if you have any questions or require additional information to consider the invitation.
Registration
Registration is free and required to attend the IEEE EMBS Grand Challenges Forum on COVID19.
Your access link will be provided after registration.
Please click here to register.
Organizing Committee
Forum Chairs
Metin Akay, University of Houston
Shankar Subramaniam, UCSD
Forum Program Chairs
Paolo Bonato, Harvard University
Colin Brenan, 1CellBio Inc.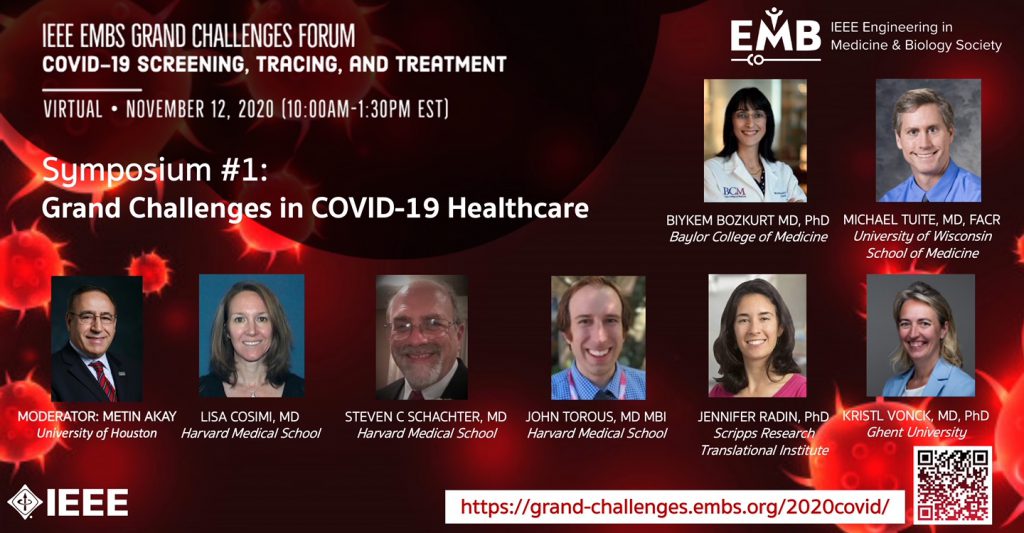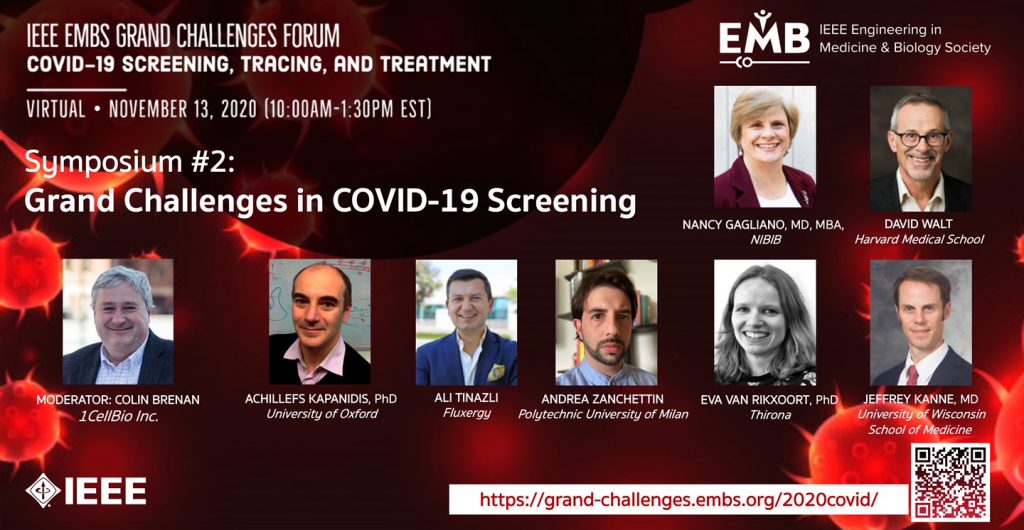 Preliminary Program at a Glance
12 November 2020
Eastern Time Zone
 
 
9:45 am – 10:00 am
Opening Remarks
10:00 am – 1:30 pm

Symposium #1: Grand Challenges in COVID 19

• Kristl Vonck, MD, PhD, Ghent University

• Michael J Tuite, MD, FACR, University of Wisconsin School of Medicine and Public Health

• Lisa Cosimi, MD, Harvard Medical School

• Steven C Schachter, MD, Harvard Medical School

• John Torous, MD, MBI, Harvard Medical School

• Jennifer Radin, PhD, Scripps Research Translational Institute
13 November 2020
Eastern Time Zone
 
 
10:00 am – 1:30 pm

Symposium #2: Grand Challenges in COVID 19 Screening

• Nancy Gagliano, MD, MBA, NIBIB

• David Walt, PhD, Harvard Medical School

• Achillefs Kapanidis, PhD, University of Oxford

• Ali Tinazli, PhD, Fluxergy

• Andrea Zanchettin, PhD, Politecnico di Milano

• Eva van Rikxoort, PhD, Thirona

• Jeffrey Kanne, MD, University of Wisconsin School of Medicine and Public Health
14 November 2020
Eastern Time Zone
 
 
10:00 am – 1:30 pm

Symposium #3: Grand Challenges in COVID 19 Tracing

• Ross Zafonte, DO, Harvard Medical School

• Bobby Reiner, PhD, The University of Washington

• Lauren Ancel Meyers, PhD, The University of Texas at Austin

• Ramesh Raskar, PhD, Massachusetts Institute of Technology

• John Rogers, PhD, Northwestern University

• Jeff Palmer, PhD, Massachusetts Institute of Technology
15 November 2020
Eastern Time Zone
 
 
10:00 am – 1:30 pm

Symposium #4: Grand Challenges in COVID 19 Treatment

• Hanneke Schuitemaker, PhD, Johnson & Johnson

• Bali Pulendran, PhD, Stanford School of Medicine

• Liang Schweizer, PhD, HiFiBiO Therapeutics

• Neil King, PhD, University of Washington

• Beth Jaworski, PhD, U.S. Department of Veterans Affairs

1:30 pm
Closing Remarks