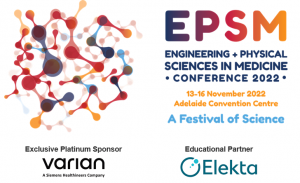 Dear Members,
While ACPSEM is delighted that EPSM is back face-to-face, we recognise that not all members of the medical physics community can join us in person this year for reasons including, but not limited to, the location of EPSM 2022, current workforce shortages, accessibility, parenting commitments, and financial constraints.
In 2022, ACPSEM is proud to offer a whole new set of options for access to EPSM. For the first time, the College is presenting a reduced virtual program of selected keynote presentations and program sessions which will be live-streamed in real-time from the in-person event. Utilising the EPSM 2022 virtual conference platform, online registrants will have the opportunity to participate in selected live sessions, and to engage with speakers, in person attendees, and fellow virtual audience members using the platform's live Q&A chat!
Virtual Program Schedule
(Australian Central Daylight Time ACDT)
Monday 14 November 2022
8:30 AM – 10:00 AM: Opening Address and Plenary 1
1:30 PM – 3:00 PM: ACPSEM/Asia-Oceania Federation of Organizations for Medical Physics (AFOMP) Session 
4:00 PM – 5:30 PM: ESTRO-ACPSEM joint session: Full speed towards automatic radiotherapy – how can machine learning help?
Tuesday 15 November 2022
Wednesday 16 November 2022
Don't have an opportunity to watch all the streamed content live? No problem. The reduced virtual program content will be recorded and made available to pre-registered online participants following the completion of EPSM 2022.
Cost
AUD $150.00 + GST for ACPSEM members (membership will be verified)
AUD $250.00 + GST for non-ACPSEM members
Stéphanie Corde and Marcus Doebrich
Co-Convenors