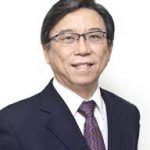 James Goh, PhD
President, IUPESM (2018-2022)

The triennial IUPESM World Congress on Medical Physics and Biomedical Engineering
Greetings IOMP friends! I hope you are keeping well.
The triennial IUPESM World Congress on Medical Physics and Biomedical Engineering is our flagship event. It began in 1976 when IOMP and IFMBE had their conferences together for the first time in Ottawa, Canada. Since then, we have had very successful world congresses over the years, credits to the strong support of IOMP and IFMBE.
We are excited to share with you the upcoming IUPESM World Congress on Medical Physics and Biomedical Engineering 2022 that will be held from 12 – 17 June 2022 in Sands Expo® and Convention Centre, Marina Bay Sands, Singapore.
The World Congress brings together people from academia, industry, and hospitals to discuss and deliberate on scientific breakthroughs and major innovations in health-related technologies to a global audience for the medical physics and biomedical engineering fraternity. It is also a platform for supporting and promoting inter- and multidisciplinary knowledge exchange among professionals in the areas that will be the major driving force for future innovations in medical technologies and medicine. Participants can look forward to Educational Programs to enhance their knowledge and participate in Challenges and Competitions. Find out more about each of them on the Awards, Challenges and Competitions page.
Due to the ongoing pandemic, the IUPESM WC2022 has gone HYBRID, hopefully this will facilitate and allow more to join the World Congress. May I urge you to submit your abstract for presentation at this triennial event and register soonest at https://wc2022.org/page/registration.html.
Don't forget to connect with us on LinkedIn, Twitter, and Facebook for the latest updates.
We look forward to welcome you to the World Congress 2022 in Singapore!