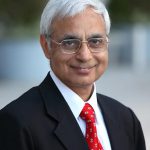 Madan Rehani, PhD
President, IOMP

IMPW 2022 program, WC2022, new ExCom (2022-2025), CME/CPD credit certificate, IDMP 2022 theme, and Ukraine war.
International Medical Physics (IMPW) 2022 is approaching on 9-13 May. IOMP is organizing webinars daily during the week and the program is available at >>. We look forward to your participation in addition to your organizing activities during the IMPW2022. Please send information about your planned activities to Magdalena Stoeva for listing on IMPW2022 page.
Singapore has relaxed travel requirements from 1 April 2022 removing the existing mandatory quarantine for COVID-19 test to be negative. Please keep a watch on WC2022 website for latest updates and we look forward to seeing you in Singapore. Please also see the Singapore Government website>>>
The extended term of the current ExCom is getting completed in early June and new ExCom will take over at the World Congress on Medical Physics and Biomedical Engineering during 12-17 June 2022. An article in this issue of the Newsletter provides details about the new ExCom for 2022-2025.
We have started providing CME/CPD credits for IOMP webinars from March 2022 on an experimental basis and thus free of charge. Those who attend webinar in full are provided certificate automatically within a week. Please keep a watch on IOMP School webinar page to have updated information about upcoming webinars.
The theme for the next International Day of Medical Physics (IDMP) which is going to be held on 7th Nov 2022 has been decided and it is Medical Physics for Sustainable Healthcare. Further details will be made available on IOMP website.
The regular meeting of the IOMP Council will be held during the WC2022 in Singapore. There are typically 2 meetings of the Council. The first meeting is with the existing team of ExCom and the second meeting is with the new ExCom. These two meetings are interfaced with a meeting of the General Assembly wherein changeover of the team takes place. This time the Council meetings will be held through virtual format as not many Council members may be able to participate in-person at Singapore. Thus, the time for meeting is scheduled at 12 noon GMT to allow largest possible participation. All three meetings will be held on 14th June in sequence covering a total for 2.5 hours. The Secretary-General, IOMP has already informed Council members about tentative Agenda and will provide updates information in coming days.
Please have a look at the IOMP actions pertaining to Ukraine War.